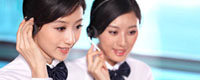 Name: Ms. Shen
Tel: +86-24-23214151
Fax: +86--23214151
Mobile: +86-138 4002 9143
E-mail: winstarmedical@163.com
Add: 15 Tonghua Road, Heping District, Shenyang City, Liaoning Province, China 110003
Skype: shen_hongqiu
MSN: hongqiu20023@hotmail.com
QQ: 247795003





Product name : Surgical Gauze

Item : 2017817131220

自定义参数 :

自定义参数 :
Details:
Product Description
Product Description:
Medical gauze piece for surgical use
:
The gauze swab are folded all by machine. Pure 100% cotton yarn ensure the product soft and absorbent. Superior absorbency makes the pads perfect for absorbing blood and exudates. In accordance with the customers'requirements,we can produce different kinds of pads, Such as folded and unfolded,with x-ray and non x-ray.The adherent pads are perfect for operation.
Specification:
1. Made from 100% cotton, pure white and soft, whiteness >=80 A
2. Good quality, high liquid absorbency, =3-5 seconds
3. Could be with or without X-ray detectable thread
4.Cotton yarn can be 21's,32's,40's, mesh of 20,17,13,10 threads
5. No toxic, no stimulation, no sensitization
6. Folded edge ornon-folded edge(Descide by custoner)
7. Package: 1pc,2pcs,5pcs or 10pcs packed with pouch for sterile,
100pcs or 200pcs packed with white paper for non sterile.
8. Strictly conforming to BP, EUP, USP standards
9. For disposable use, expiring time: 5years
Packaging & Shipping:
For sterile packing:
| | | |
| --- | --- | --- |
| SIZE (for40's, 17threads) | CARTON SIZE | Quantity (1pcs/pouch) |
| 5cmx5cm-8ply | 48x28x43cm | 5000pouch |
| 7.5cmx7.5cm8ply | 53x28x51cm | 4000pouch |
| 10cmx10cm-8ply | 68x28x32cm | 2000pouch |
| 10cmx20cm-8ply | 59x27x42cm | 1200pouch |
| 5cmx5cm-12ply | 48x34x43cm | 5000pouch |
| 7.5cmx7.5cm-12ply | 53x34x51cm | 4000pouch |
| 10cmx10cm-12ply | 68x32x34cm | 2000pouch |
| 10cmx20cm-12ply | 59x27x51cm | 1200pouch |
For non sterile packing:
| | | |
| --- | --- | --- |
| SIZE (for40's, 17threads) | CARTON SIZE | Quantity (100pcs/pack) |
| 5cmx5cm-8ply | 27x27x44cm | 100packs |
| 7.5cmx7.5cm8ply | 39.5x32x44cm | 80packs |
| 10cmx10cm-8ply | 52x52x24cm | 50packs |
| 10cmx20cm-8ply | 52x42x35cm | 30packs |
| 5cmx5cm-12ply | 27x27x62cm | 100packs |
| 7.5cmx7.5cm-12ply | 39.5x39.5x32cm | 50packs |
| 10cmx10cm-12ply | 52x42x32cm | 40packs |
| 10cmx20cm-12ply | 62x42x32cm | 24packs |
| 5cmx5cm-16ply | 27x27x40cm | 50packs |
| 7.5cmx7.5cm-16ply | 47x39.5x40cm | 60packs |
| 10cmx10cm-16ply | 52x52x40cm | 50packs |